[EN] SV Takes On Amazon's Cashier-less 'Go' Stores
こちらAmetaです。
週末は英語力を鍛錬するために、英語でTECH関連の記事を書くことに挑戦してます。
英語の間違いなどはぜひご指摘お願いします!
それでは、Airticle in English 第2弾です!
Silicon Valley Takes On Amazon's Go Stores
Amazon Go is a chain of convenience stores in the United States operated by the online retailer Amazon. Currently, there are 18 open and announced store locations in Seattle, Chicago, San Francisco and New York City as of 2019.
The first Amazon Go store was founded in Seattle, Washington on January 22, 2018. The unique system of Amazon Go attracted people's attention at that time. Amazon Go stores let customers grabbing some products go out of the store without having a checkout process in the store.
This is called as "Pick & Go" retailing and is allowed thanks to cashierless checkout technology, which is uniquely developed by Amazon. The image below describes Amazon GO's phases through which customers get products from the retail stores (Moriarty, 2019) [1].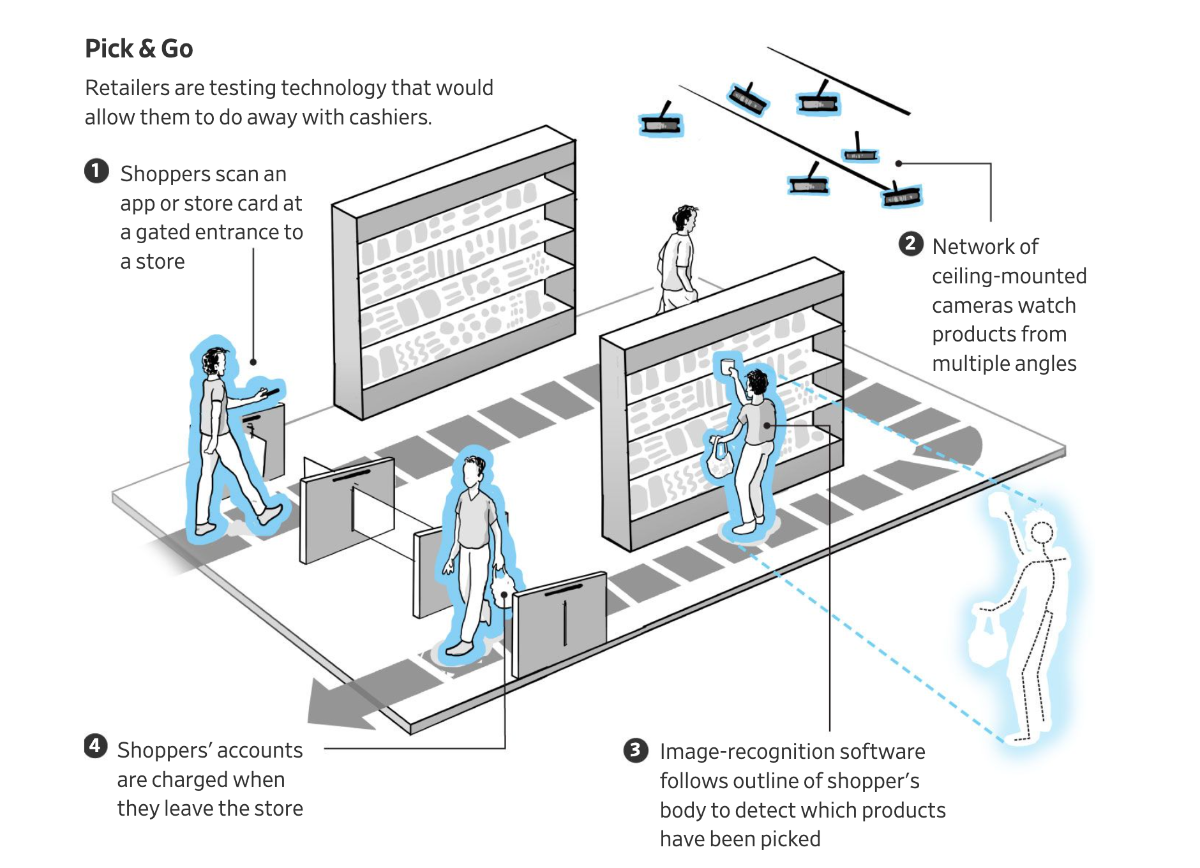 Problem Description
The cashierless-store concept popularized by the Amazon Go store allows customers to pick up all of the items they need and then simply walk out the door. Nevertheless, Amazon Go isn't the only player in the market while it may be the biggest name in these days.
In fact, two tech start-ups, AiFi and Grabango, are working on autonomous systems for big retailers doing battle with Amazon in a mounting checkout-less technology war (Douglas, 2019)[2]. These two competitors have own distinctive advantages which is not possessed by Amazon Go.
For instance, AiFi uses a "sensor fusion" technology that combines data from sensors to increase the accuracy of tracking a product and also uses camera technology to track what items are removed from the shelf by which individual.
On the other hand, computer vision is a key distinction that separates Grabango from Amazon Go. Go stores use scales, shelf cameras and sensor technology to track items when they are taken off the shelf. Computer vision technology of Grabango uses small cameras that track when each product in the store is taken or replaced.
This allow its customers to skip putting items on the conveyor belt, which means that they no longer have to wait for somebody to scan them out and no longer have to wait to re-bag.
In addition to these similar competitive forces, other startups are focusing on the shopping cart, New York-based Caper Inc. and Seattle-based Veeve Inc., are both developing smart shopping carts with visual or scanning technology to tally items including non-packaged goods like produce (Sebastian, 2019)[3].
With the help of its first mover advantage and humongous resources, Amazon is now facing the challenge to transcend other players in the convenience-retail industry whose competitiveness is expected to get intensive day by day.
Current Strategies
Amazon Go currently engaged in its two major aspect of development: clustering its stores at a closer location and diversifying the genres of their merchandise sold in those physical stores.
For example, Amazon.com Inc.recently, opened its fourth cashierless convenience store in San Francisco, and all of them are located within a few blocks of each other (Sebastian, 2019).
This roughly one-square-mile stretch in the tech capital's bustling business sdistrict is emerging as a battleground to eliminate retailing's centuries-old checkout process and reinvent the way consumers shop. Thereby, Amazon tries to enhance its brand loyalty of Amazon Go whose brand recognition among customers is comparatively higher than those of others.
As regards to the diversification of Amazon's physical businesses, the company now has 16 Amazon Go stores, where customers can grab ready-to-eat food and grocery purchases checkout-free.
It also has four Amazon 4-star stores, which stock products rated 4-stars and above on the Amazon site, and 18 Amazon Books stores (Fung, 2019)[4].
Most importantly, Amazon.com is planning to open dozens of grocery stores in several major U.S. cities as the retail giant looks to broaden its reach in the food business and touch more aspects of consumers' lives (Fung & Haddon, 2019)[5].
Amazon.com has tested its cashierless checkout technology for Amazon Go with bigger capacity than that of today's Amazon Go since 2018 (Haddon & Stevens, 2018)[6]. If this attempt turned out to be successful, the strategy would further challenge brick-and-mortar retailers racing to make their businesses more convenient.
Evaluations of the strategies
As illustrated in the high profitability of its operations, Amazon Go and other physical retailers under Amazon's control has implemented the reasonable strategy for the last few years.
As one metric, in the second quarter of 2019, net sales from Amazon's physical stores rose 1% to $4.3 billion from a year earlier, compared with 16% growth recorded in its online stores, according to Amazon's earnings statement (Fung, 2019).
Clustering Amazon Go in one specific areas may be a cause cannibalization among themselves, but the benefits of enhancing Amazon Go's brand can be speculator at this initial stage. As the number of physical stores proliferates, the opportunities to apply its technological advantages, in both distribution and retailing, expands.
Hence, I appreciated that the diversification in terms of their merchandise and the size of stores can provide growth opportunities to itself.
Also, I expect that Amazon Go's marketing strategy causes the synergistic effect to their main business, online retailing, because the synchronization between the physical and online retailing can encourage customers of each side business to live with Amazon.
Suggested Strategies and Modifications
Development of private-label foods and goods
According to the recent activities of Amazon Go that are referred in the major journals, it is obvious that the subsidiary company place worth on its technological development, and its promotion mainly relies on it.
From the standpoint of a marketer, I would suggest some development of exclusive products that cannot be purchased from competitor's stores.
By implementing this advice, Amazon Go can be picked by customers due to not only its convenience retailing format but also the unique goods that provides wonderful experiences to customers.
Integration with distribution channels of online services
To bring Amazon's myriad customers of online retailing services, Amazon Go should connect its distribution channels with some portions of Amazon's mainstream of online merchandise.
By taking this measure, Amazon Go can provide pick-up services of online ordered items besides things sold in product shelf at the same time.
Other competitors have not built up such a large distribution infrastructure like Amazon, and it is the strength on which the company should take full advantage.
Integrating Amazon Go with other Amazon's physical stores
Another way that can create a distinctive recognition of Amazon Go is to promote collaboration of Amazon Go and other types of Amazon's physical subsidiary.
For instance, Amazon Book and Amazon Go could be combined with each other with such a large capacity.
If Amazon Go chose to try this integrated operation, it would be more likely that the characteristics of each retail store is also integrated. That is to say, customers can eat their purchased goods at Amazon Go right after moving to the cafeteria which is usually attached with an Amazon Book store. Their technological aspects can be also applied to each other's operation. This idea can result in the synergy of Amazon's convenience as a whole corporation.
Discussion