Forcibly copy files with cyclic redundancy check (CRC) errors
Tanjirou, what will you do if your hard disk drive break a file?
When you are operating files in Windows, you may encounter a "Cyclic Redundancy Check (CRC) error" when trying to copy a file, causing it to fail to read. This phenomenon is caused by physical damage to the hard disk drive (hereinafter called "drive"), for example. It has reached the end of its life.
If you want to save the other safe files in the drive, you have to replace it with a new drive right now, without saving any money. Then copy the safe files from the old drive to the new drive. The old drive may die during the copying process, so there are some tricks to avoid that as much as possible, but this margin is too narrow to contain that (see other technical articles for details). If you not worrying about the risk, the robocopy command in Windows is useful to copy.
This will restore the file to its original state. But you want to save the corrupted files as much as possible, don't you? I will show you how to use a tool to forcibly copy only the parts of a corrupted file that are not corrupted.
How to use the "Roadkil's Unstoppable Copier" tool
Download "Roadkil's Unstoppable Copier" from this page, and install it (or extract the executable file to any location). The usage is as follows.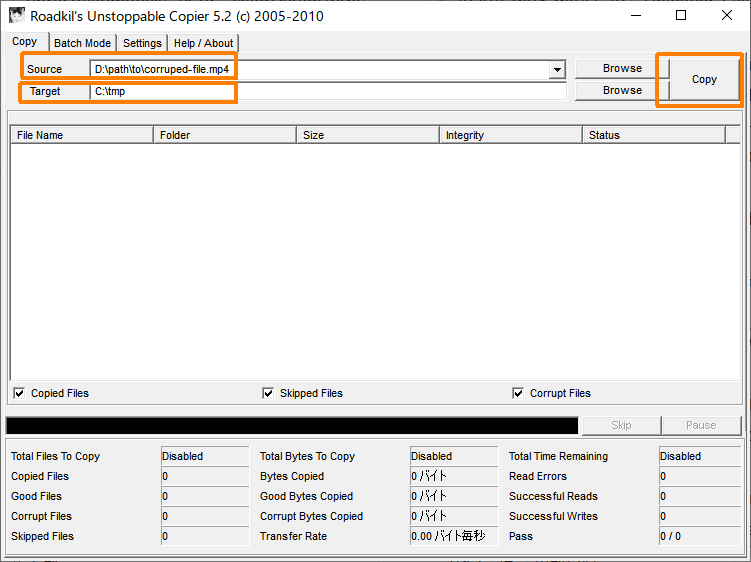 Source : Specify the broken file. Note that the UI that appears when you press the "Browse" button is unique, so it is faster to paste the file path directly into the input field. The way to get the path of a file is as follows: [Open the directory where the file is located in Explorer] -> [Hold down the Shift button and right-click on the file to press the "Copy Path" menu that appears]. However, please remove the double quotation marks that are automatically added after pasting the file into the tool.
Target : Specify the directory where you want to save the recovered (partially corrupted) files. The theory is to specify a different drive than the corrupted one.
Copy : After you have finished specifying the above two, press this button.
Then go make a new cup of coffee or start watching Youtube (it takes longer to restore large files).
Tips for a quick restore
The default settings will take a long time to restore. Specifically, when 10 % of a 5 GB file was corrupted, it took about 20 minutes. If you are working with unimportant files, you may want to open the "Settings" tab and operate the following two items. Maybe.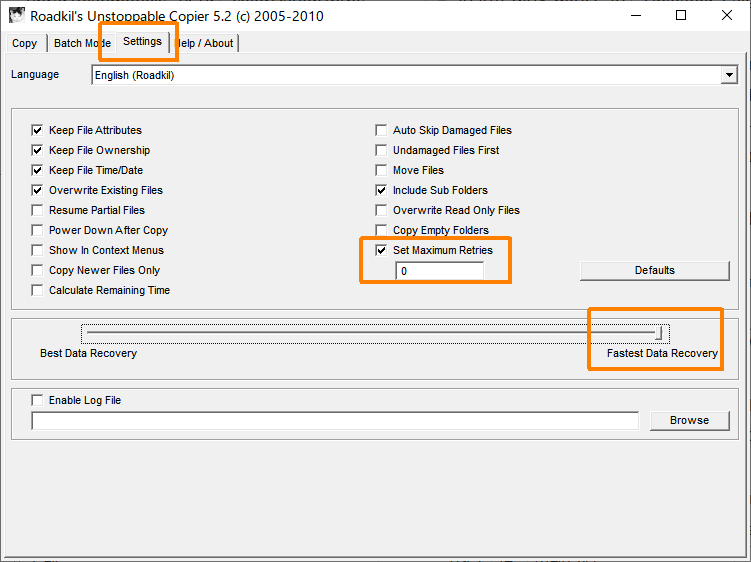 Additional information for experts
Note
Discussion